13th February 2014
Classic Motorcycle Transportation
Collection and delivery service for classic motorcycles
We transport all makes and models of motorcycle at Motorcycle Delivery UK, yesterday was the first time in 11 years we have transported a Maserati Motorcycle.
A 1959 Maserati 50/T2/SS in showroom condition.
We transported it from Reading to Essex on behalf of a shipping company who were shipping it on to Montreal, Canada.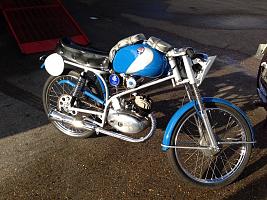 Engine: 49.6cc 2 stroke single cylinder, 3 speed manual, 1959, REG: 905 YUK.
We transport classic motorcycles everyday on behalf of dealers, shipping, companys and the general public. If you need a motorcycle transporting, whether its a classic motorcycle or a superbike, contact the motorcycle transport experts: Motorcycle Delivery UK.
Why use Motorcycle Delivery UK?
A friendly family run business with over 10 years experience delivering throughout the UK
We do our best to offer an unrivalled service at an affordable price
Our vans are also fully insured via AXA up to £50k per load exclusively for Bikes/bike parts