2nd February 2014
Modified Vespa Scooter - Mirrors, Mirrors everywhere!!
Door to Door collection and delivery of Scooters
Modified Scooters split Scooter lovers right down the middle. This Vespa T5 we transported for a customer in Scotland last week was certainly fully loaded! With 20 mirrors, lights a plenty, air horns and rear aerials, this was one modified Scooter.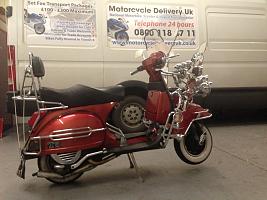 When Transporting Scooters like this one, the Modifications can sometimes pose problems when securing the Scooter into the van. We find the safest option is to remove some of the mirrors and wrap them in soft blanket for transportation. The mirrors are only attached to the frame with simple nuts and bolts, an easy unbolt then bolt back on job.
On our facebook page this Scooter split people right down the middle, Overloaded?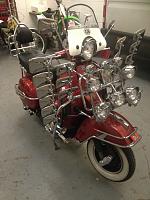 We Collect and Deliver Scooters every day of the week, so we are 100% confident that the Scooter will reach its new owner in exactly the same condition we collect it in. We collected this Scooter in Birmingham on Wednesday and delivered it to Dundee in Scotland on Friday..... all for £180 all inclusive, fully insured.
We transport scooters for numerous Scooter dealers around the UK, we were also Piaggio UK's chosen Scooter Transport between 2008-2011 (Gefco won the contract beyond 2011).
If you need a Scooter transporting anywhere within the UK mainland, call the professionals, Call Motorcycle Delivery UK.
Why use Motorcycle Delivery UK?
A friendly family run business with over 10 years experience delivering throughout the UK
We do our best to offer an unrivalled service at an affordable price
Our vans are also fully insured via AXA up to £50k per load exclusively for Bikes/bike parts