14th November 2014
Motorcycle Delivery Companies: Who to choose to move your motorcycle
What to ask when choosing your
motorcycle collection and delivery company
When you have made your mind up that you are going to employ a motorcycle collection and delivery company to transport your bike, here are a few questions you should be asking:
1) Do they only transport Motorcycles?
2) Do they have an insurance policy that covers motorcycles whilst in transit, not just goods in transit policy.
3) Can they give you numerous names of previous customers, both general public and trade that can vouch for them as professional motorcycle transporters.
4) Will you be able to speak to the same person each time you call with any queries?
5) If your bike is to be stored whilst in situ, will it be stored in a secure unit that has a state of the art remote alarm and cctv system that is on a secure industrial estate?(some motorcycle delivery companies store customers bikes on their back gardens, be careful).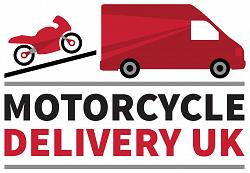 If the company you have called have answered YES to these questions and also offered you names and telephone numbers of previous customers then....... the cances are you called Motorcycle Delivery UK, your motorcycle is in safe hands with us.
Why use Motorcycle Delivery UK?
A friendly family run business with over 10 years experience delivering throughout the UK
We do our best to offer an unrivalled service at an affordable price
Our vans are also fully insured via AXA up to £50k per load exclusively for Bikes/bike parts