23rd October 2014
Motorcycle Delivery/Transportation Ramps
So you've decided you're going to collect that new motorcycle you have just bought.
You have the van and the straps but you have not got a clue how you're going to get the motorcycle from the floor in to the back of your van and the back down again. Here are a few tips: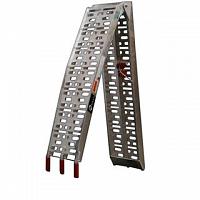 Depending on the weight and size of motorcycle and height of your van, it could be lifted by 2-4 men. 2 men at the front, one hand on handlebar and one on the wheel, lift the front wheel onto the back of the van. One man then gets up onto the van with the bike, front wheel between legs and one hand on each bar with brake applied. One-three men then go to the back end of the motorcycle, lifting it into the air, the man on the bars releases brake and the motorcycle is slowly rolled forward onto the van.
Use a plank of wood or something similar, not a good idea for heavier motorcycles as you can't be sure of the weight the wood could take before breaking!
A narrow aluminium ramp is probably the safest and cheapest way to load a motorcycle onto a van on your own. Always make sure the ramp is attached to the van in some way to avoid the risk of the ramp slipping or moving and causing an expensive, painful accident.
The most obvious and safest way to get a motorcycle loaded into a van without any stress or worry of damage or injury is to call Motorcycle Delivery UK, let us arrange collection and delivery of your new motorcycle. Let them safely load and unload your pride and joy, Call Motorcycle Delivery UK, we take the headache out of getting your new motorcycle transported.
Why use Motorcycle Delivery UK?
A friendly family run business with over 10 years experience delivering throughout the UK
We do our best to offer an unrivalled service at an affordable price
Our vans are also fully insured via AXA up to £50k per load exclusively for Bikes/bike parts