20th November 2014
Motorcycle Shipping - Using a delivery company to transport a motorcycle
You need to transport a motorcycle, anywhere in the UK or mainland Europe.
Are you looking into Shipping your pride and joy because you're moving abroad?
Maybe you are going on a motorcycle tour across the UK or mainland Europe.
When it comes to letting someone collect your motorcycle from you and transport it to another destination, you should do everything you can to check out the motorcycle shipping companies history, ask for references, speak to previous customers and don't be afraid to ask plenty of questions, you are afterall trusting strangers to transport your motorcycle a long distance.
Motorcycle Shipping - Who to choose
We work with a lot of freight forwarders who get enquiries from people wanting to get their motorcycles shipped, they then get prices from different transport providers before getting back to the customer to give an all inclusive price, including a fee for their services. This can work out quite well if wanting a motorbike shipping abroad but if you need a motorbike collecting and delivering within the UK, it would be much more economical going straight to a dedicated motorcycle collection and delivery company, they will give you an all inclusive price to ship your motorcycle from door to door, no extras added on.
Doing your homework when deciding which motorcycle shipping company to use, although it can seem tedious, it is vitally important as a lot of transport providers think they are insured to transport motorcycles and they are not, a general goods in transit insurance policy will not cover your motorcycle whilst it is been transported.
What to ask/do when choosing a motorcycle shipping company
Check they have a presence on the web and they are not just a man and a van
Ask who they are insured with and what their insurance policy covers
Ask to see a copy of their insurances if you're at all doubtful
Think twice about using freight forwarders or auction websites proclaiming cheap motorcycle shipping
If you can't call and speak to a person, a real person who knows what they are talking about when it comes to motorcycle shipping, AVOID
Ask for references from real people, not just a feedback page on an auction website
Always remember, cheapest is not always best.... this is your pride and joy
Dedicated motorcycle transporters should also transport Scooters and Quads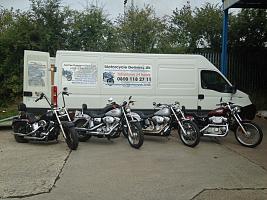 Obviously we provide motorcycle shipping professionally, our service might not always be ideal for you, if it isnt and we think someone else can offer you exactly what your looking for, we will pass you on to them. We don't quote on jobs for the sake of it.
Thanks for reading our motorcycle shipping advice, Whatever method you choose to get your motorcycle transported,
HAPPY RIDING!
Why use Motorcycle Delivery UK?
A friendly family run business with over 10 years experience delivering throughout the UK
We do our best to offer an unrivalled service at an affordable price
Our vans are also fully insured via AXA up to £50k per load exclusively for Bikes/bike parts