19th October 2014
Scotland, England and Wales Motorcycle Collection and Delivery
Uk mainland collection and delivery service for motorcycles
We cover nearly the whole of the UK mainland every week.
We collect and deliver motorcycles from Scotland on a Thursday or Friday. We transport motorcycles to and from Devon and Cornwall on a Tuesday/Wednesday/Thursday.
We collect and deliver motorbikes for dealers in Aberdeen, Dundee, Inverness, Edinburgh, Glasgow, Newcastle, Sheffield, Leeds, Manchester, London, Bristol, Plymouth, Exeter, Cardiff, Swansea and nearly every other major city in the UK.
No matter where you need a motorcycle Collecting/delivering from/to, Give us call.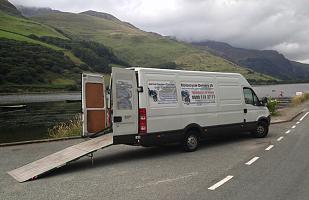 Why use Motorcycle Delivery UK?
A friendly family run business with over 10 years experience delivering throughout the UK
We do our best to offer an unrivalled service at an affordable price
Our vans are also fully insured via AXA up to £50k per load exclusively for Bikes/bike parts