31st October 2014
BMW R80/7 by Kevils Speedshop
Here at Motorcycle Delivery UK some of our customers customise motorcycles to individuals requirements. One of our customers that does this is Kevils Speed Shop in Devon. They take old BMW motorcycles and transform them into Bobbers, Scramblers, Cafe Racers, well any style you want really.
The latest motorcycle we transported for Kevils is this 1978 BMW R80/7, that as you can see has been totally transformed into a stunning one off for its new owner.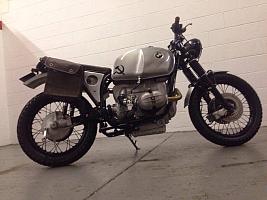 The bike has been featured on the Bikeshed.cc, see the full article and you will realise just how much work Kevils Speedshop put into making Motorcycles truly one offs for their customers.
We'd like to thank Kevin Hill who owns Kevils for choosing motorcycle delivery UK to transport customised motorcycles across the UK for him.
Why use Motorcycle Delivery UK?
A friendly family run business with over 10 years experience delivering throughout the UK
We do our best to offer an unrivalled service at an affordable price
Our vans are also fully insured via AXA up to £50k per load exclusively for Bikes/bike parts